Michael bloomberg is going to help new yorks fashion industry get even bigger
Michael Best

Michael Best is co-host of "Bloomberg Law" on Bloomberg Radio. He is also Chief Operating Officer of Bloomberg.LP Industry Verticals, and he previously served within the company as Michael Bloomberg's chief of staff.

Bryan Curtis

Bryan Curtis is a journalist and media executive who has resided in Hong Kong since 1991. He has covered market and political developments, economic trends and central banks in China and Hong Kong and around the world. Prior to joining Bloomberg, Curtis was general manager of two radio stations, Radio 3 and Radio 4, at Radio Television Hong Kong (RTHK). He also hosted the network's leading news and current affairs programs, and produced and presented RTHK's news specials and annual interviews with Hong Kong's chief executive and financial secretary.

Curtis is active in charity, having served for 12 years as co-chairman of Operation Santa Claus, one of Hong Kong's best-known charities. Earlier, he wasnews director at Metro Broadcast (Hong Kong) and before that, news director at radio station ICRT in Taiwan. Curtis was educated at UC San Diego, Dartmouth and USC in broadcasting and journalism.

Pimm Fox

During his career at Bloomberg, Fox has interviewed numerous business chiefs and investment gurus including Berkshire Hathaway Chairman and CEO Warren Buffett. Fox joined Bloomberg in 2006, after michael bloomberg is going to help new yorks fashion industry get even bigger overseeing financial services coverage for the Dow Jones News Service in London. He also served as a guest commentator for CNBC and the BBC and has written for Barron's, The Wall Street Journal, Institutional Investor, Newsweek and The New York Times. Prior to joining Dow Jones, Fox held roles as the director of the Charles Schwab 'Smart Investor' Web site, West Coast bureau chief for Computerworld magazine.

Based in New York City, Fox received a bachelor's michael degree in architecture from Columbia University. He penned the "hometown news" while serving in the U.S. Navy.

June GrassoJune Grasso is an attorney and communications consultant. Prior to Bloomberg News, Grasso was an anchor, reporter and legal analyst for a variety of Court TV and ABC Radio Network programs, reporting on legal issues such as the death penalty and major trials such as the Oklahoma City bombing.

Kathleen HaysKathleen Hays has covered the U.S. economy and the Federal Reserve for more than 20 years. In addition to her radio hosting duties, she serves as economics editor, specializing on the impact of the U.S. economy and the Federal Reserve on interest rates and currency.

Cory JohnsonCory Johnson is a San Francisco-based anchor for Bloomberg Television and co-host of Bloomberg West, the hour-long weekday program that covers innovation, technology and the future of business from Bloomberg's new studios on the West Coast.

Thomas R. Keene, CFAThomas R. Keene is an editor-at-large for Bloomberg News, providing economic and investment perspective. Tom is the host of Bloomberg Radio's Bloomberg Surveillance. He also hosts Surveillance Midday on Bloomberg Television.

Doug Krizner

Doug Krizner's on-air radio experience began more than thirty years ago and includes historic KDKA in Pittsburgh. After a brief stint as a New York stockbroker, Doug was introduced to business news in 1992 when Michael Bloomberg hired him as part of a team to create Bloomberg Radio. He reported on the financial markets for Bloomberg and its affiliates and was Bloomberg's stock market reporter for NPR News. Doug later led Bloomberg Radio as news director. He was also reporter and host for Bloomberg Television programs on PBS and USA Network. Doug's experience includes the Los-Angeles-based public radio show, "Marketplace Morning Report," where he worked as co-host, producer and editor. He is a graduate of the University of Pittsburgh.

Francine LacquaFrancine Lacqua is a London-based anchor and editor-at-large for Bloomberg Television.

Arthur Levitt

Arthur Levitt, who is a member of the board of Bloomberg LP, is the host of Bloomberg Radio's "A Closer Look with Arthur Levitt," a weekly program featuring one-on-one interviews with the brightest minds in business and politics.

Carol Massar

Carol Massar is co-host of "The Bloomberg Advantage" on Bloomberg Radio and an anchor/reporter on Bloomberg TV. Massar provides in-depth coverage and analysis of major economic, business, social and cultural trends across Bloomberg's media platforms.

Michael McKee

Michael McKee is a Bloomberg Radio host, covering market and political developments, economic trends and central banks in the United States and around the world.

Bob Moon

Bob Moon joined Bloomberg in 2013 after serving 12 years as senior business correspondent and New York bureau chief for public radio's Marketplace. Moon spent two decades at The Associated Press, reporting from all 50 states and far-reaching international datelines.. Moon also headed news departments for several radio stations in Utah and was lead evening anchor at WLEX-TV, the NBC affiliate in Lexington, Ky. He grew up in Southern California.

Karen MoskowKaren Moskow worked at the Wall Street Journal, anchoring business reports on various radio stations, won an Associated Press award for her work at WBIX in Boston for special coverage following the 9/11 attacks, anchored the news on WABU-TV in Boston and reported for New England Cable News.

Charlie PellettAlong with being part of the original team hired to put Bloomberg Radio on the air, Charlie Pellett was also one of the first anchor/reporters on Bloomberg Television. Pellett is a frequent contributor to a variety of Bloomberg television programs and a nationally-broadcast public television show.

Barry Ritholtz

Barry L. Ritholtz is the host of Bloomberg Radio's Masters in Business. An hour long deep dive into the people who drive markets and business. Ritholtz is the founder and chief investment officer of Ritholtz Wealth Management. Launched in 2013, RWM is a financial planning and asset management firm, with over 5 million in assets.

Charlie RoseEmmy award-winning journalist Charlie Rose hosts a nightly PBS program that engages the world's best thinkers, politicians, athletes, entertainers, business leaders and other newsmakers. Rose has interviewed everyone from Tony Blair to Nobel laureate Harold Pinter to Warren Buffett to Neil Young.
Источник: http://www.siriusxm.com/bloomberg
Bloomberg Plans a Ban on Large Sugared
Get look lara bingles sweater dress
Michael Bloomberg And Carl Pope On
Stocks - Bloomberg
Technology - Bloomberg
Bloomberg Radio - Latest Financial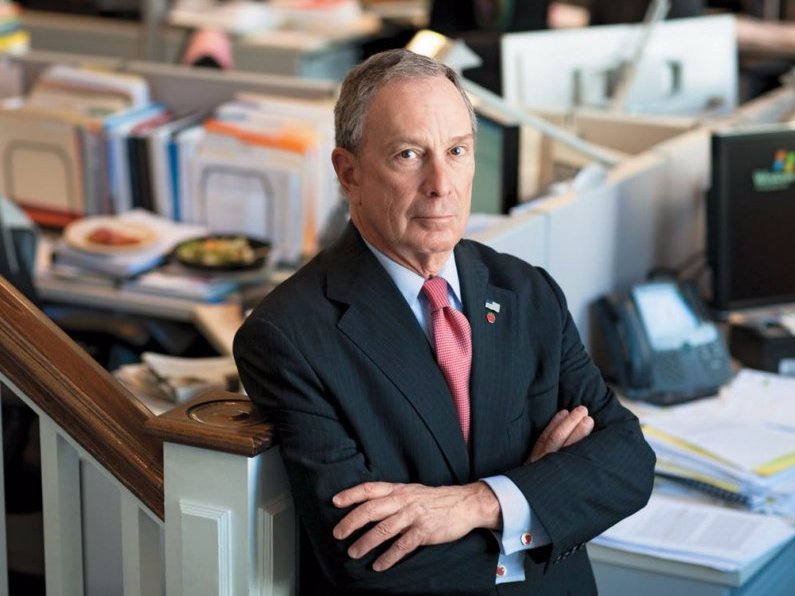 Obama - New World Order - Bilderberg
Mayor Michael Bloombergs Companion
Search Results - Puget Sound Business
14 Best Short Hairstyles of 2017 That Will Make You Want a Haircut
30 Best Spring Floral Nail Art Ideas - Flower Nail Art Manicures
4 Ways to Polish Stainless Steel - wikiHow
Breaking Music News Billboard
Cached
Color Wheel Pro: Color Meaning
DIY Spirulina Face Mask (The ultimate)
Doctors Warn: Don't Wear Flip Flops For THIS Dangerous Reason!